WELCOME TO WINGS OVER WHEELS
Just a reminder, the original rain date of June 17th has been cancelled. This was beyond the control of WOW. No date has been set, BUT, please check back periodically for information about a possible event this fall. We'll keep you posted!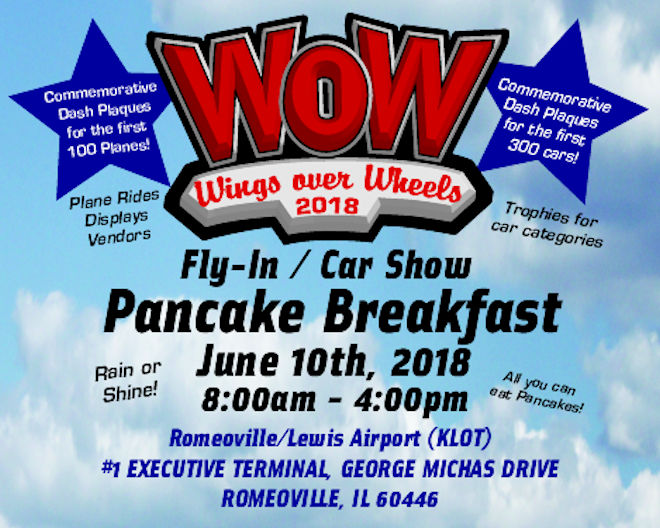 Click here to download the event flier in pdf format to print
Click here to download the printer friendly flier (No Clouds) in pdf format to print
Questions or comments? Email us at wowflyin@comcast.net
So, you're asking yourself...what is Wings over Wheels? Well, it's a Fly-In / Car Show Pancake Breakfast and more event. Planes, Cars, Food, Music, Vendors, and much more. It's scheduled for Sunday June 10th, 2018 and will run from 8:00am-4:00pm CST. A lot of planning is being put in to this event and we are constantly adding new attractions each week. So, please check back regularly and see what exciting news we'll have. We'll also be posting updates on facebook and Instgram. You can access our pages by clicking on one of the links below. If you visit our pages, please like, follow and friend when possible. Also, send the links to your friends. We want to get the word out and make this a great event for years to come.