WELCOME TO WINGS OVER WHEELS
Attention: This is a RAIN OR SHINE event. The event will NOT be cancelled due to rain.
Wings over Wheels is a family-friendly, fun-filled event showcasing aircraft and show cars with amazing craftsmanship, innovative designs, and creative concepts. The event is open to the public and provides the opportunity for young and old to see amazing planes, view classic autos, and talk with their owners.
AS OF MAY 21st, A FEW VENDOR SPACES ARE STILL AVAILABLE. CONTACT US TO RESERVE YOUR SPOT AT wowflyin@comcast.net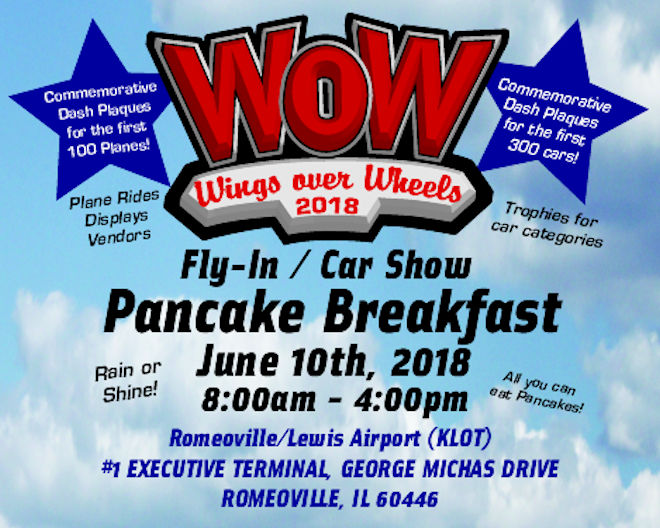 Click here to download the event flier in pdf format to print
Click here to download the printer friendly flier (No Clouds) in pdf format to print
Questions or comments? Email us at wowflyin@comcast.net
The Exhibitor / Sponsor forms are now available for download. Please click on these links for the forms you need.
2018 WOW Exhibitor Form 2018 WOW Sponsor / Advertising Form
So, you're asking yourself...what is Wings over Wheels? Well, it's a Fly-In / Car Show Pancake Breakfast and more event. Planes, Cars, Food, Music, Vendors, and much more. It's scheduled for Sunday June 10th, 2018 and will run from 8:00am-4:00pm CST. A lot of planning is being put in to this event and we are constantly adding new attractions each week. So, please check back regularly and see what exciting news we'll have. We'll also be posting updates on facebook and Instgram. You can access our pages by clicking on one of the links below. If you visit our pages, please like, follow and friend when possible. Also, send the links to your friends. We want to get the word out and make this a great event for years to come.